Rebel of the Sands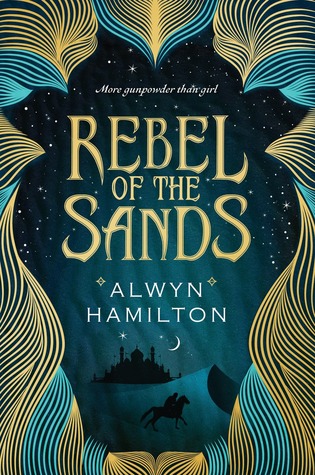 by Alwyn Hamilton
5/5 Stars
---
Overview:
She's more gunpowder than girl—and the fate of the desert lies in her hands.
Mortals rule the desert nation of Miraji, but mystical beasts still roam the wild and barren wastes, and rumor has it that somewhere, djinni still practice their magic. But there's nothing mystical or magical about Dustwalk, the dead-end town that Amani can't wait to escape from.
Destined to wind up "wed or dead," Amani's counting on her sharpshooting skills to get her out of Dustwalk. When she meets Jin, a mysterious and devastatingly handsome foreigner, in a shooting contest, she figures he's the perfect escape route. But in all her years spent dreaming of leaving home, she never imagined she'd gallop away on a mythical horse, fleeing the murderous Sultan's army, with a fugitive who's wanted for treason. And she'd never have predicted she'd fall in love with him… or that he'd help her unlock the powerful truth of who she really is.
Favourite Quote:
"Tell me that and we'll go. Right now. Save ourselves and leave this place to burn. Tell me that's how you want your story to go and we'll write it straight across the sand"
― Alwyn Hamilton, Rebel of the Sands
---
Em's Review:
Don't you just love when a book is as beautiful as the cover?
I do.
Magic, Djinn (Genie), mythical sand horses and a bad ass main character that holds her own in the shotgun fighting pit.. Heck yeah I want to read that!
The novel follows the main character Amani's journey to a better world, wherever that may be. Away from her poverty stricken and down right dull hometown. It is a predictable boy meets girl storyline but I enjoyed the interaction between Amani and Jin. A beautifully written novel that unfolds throughout it's entirety kept me on my toes. The ending is absolute perfection and I loved the world that engulfed my life.
If you are looking for a easy-read fantasy that will keep you guessing – definitely pick up this one!