Six of Crows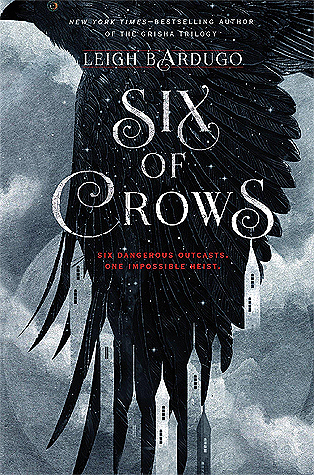 by Leigh Bardugo
5/5 Stars
---
Overview:
Ketterdam: a bustling hub of international trade where anything can be had for the right price—and no one knows that better than criminal prodigy Kaz Brekker. Kaz is offered a chance at a deadly heist that could make him rich beyond his wildest dreams. But he can't pull it off alone…
A convict with a thirst for revenge
A sharpshooter who can't walk away from a wager
A runaway with a privileged past
A spy known as the Wraith
A Heartrender using her magic to survive the slums
A thief with a gift for unlikely escapes
Kaz's crew are the only ones who might stand between the world and destruction—if they don't kill each other first.
Favourite Quote:
"How do you get your information, Mister Brekker?"
"You might say I'm a lockpick."
"You must be a very gifted one."
"I am indeed." Kaz leaned back slightly. "You see, every man is a safe, a vault of secrets and longings. Now, there are those who take the brute's way, but I prefer a gentler approach – the right pressure applied at the right moment, in the right place. It's a delicate thing."
"Do you always speak in metaphors, Mister Brekker?"
Kaz smiled. "It's not a metaphor."
He was out of his chair before his chains hit the ground."
― Leigh Bardugo, Six of Crows
---
Em's Review:
This book was absolutely amazing.
Because I hadn't read any of the Grisha Novels by Leigh Bardugo I was a little lost at the start but caught up pretty quick.
The most enjoyable part of this book was the detail and depth of the main characters. Having chapters from their POV's and backstories from each made me fall in love with them so easily.
I love that the are thieves, thugs and sly assassins – sometimes going for the bad guys is kinda fun!I will definitely be picking up book two and probably everything else Leigh has written!